Hello Beautiful People! It's Amy again. I am so excited to be back this month to share with you a project that I absolutely adored making. This project was inspired by my son. I was just looking at him and reminiscing about the days when he was a truly a little baby...and man, has he grown!!! So that made me want to create my little one his very own growth chart and MOSD has SO many fabulous products that made this project just come to life!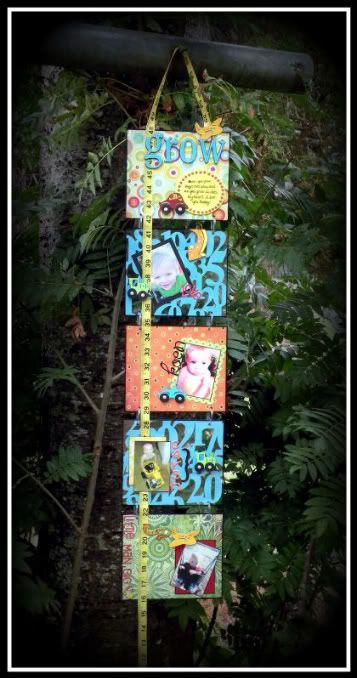 For this growth chart I used various wonderful MOSD products. For the base of the entire chart I used the Clearly Designed Flipped Out Acrylic Album, using only the inner pages and back cover. I trimmed down the back cover to be the same size as the inner pages so I would have 5 uniform acrylic panels.


I then started to decorate! I used Basic Grey 'Lime Rickey' collection because it blended so well with the fabulous MOSD 1-2-3 Intricacy that I used to back a few of my acrylic pages. To adhere the papers to the acrylic I simply used Mod Podge!
One of my favorite things that I used on this Growth chart was the
MOSD Toddler Boy Edger
. I cut it apart so I had multiple little vehicles to play around with and added details with a pen. Easy and fun and Oh so CUTE!!
Then there are the Oh SO fabulous
MOSD Binding Rings
that hold this bad boy together. I chose to use clear to keep in theme with the Acrylic! If you do not have any of these binding rings then they are definately a MUST have item! Simple and easy to use and just wonderful!!
As you can probably tell my DS loves cars or as he calls them 'carsh'. And I just love it when I get to combine a passion of someone I love with that of my own! As sad as I get that my little man is growing up I will always have little things like this to remember his 'younger' years! Which is, afterall, The main reason I scrapbook!
This was my first time working with Acrylic and I absolutely loved it!
Thank you all so much for stopping by today to check out what I have been up to. Make sure to keep checking back to see what the rest of the FAB DT has been creating!
PeaceOut-ScrapOn-LoveAlways